Site / Access
Production Site
Kureha has two production sites in Japan that supply the world with specialty products.
Iwaki Factory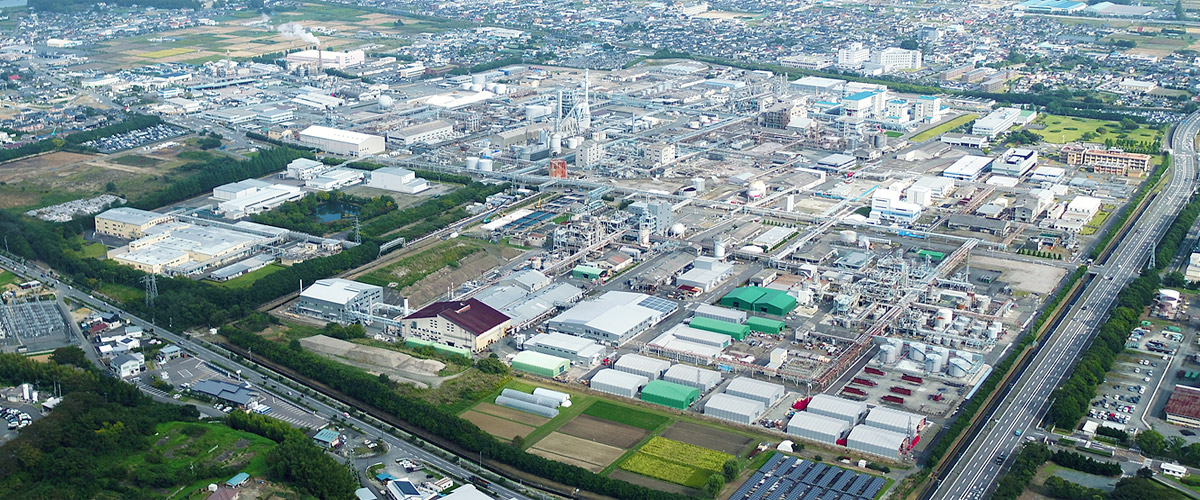 The Iwaki Factory is Kureha's primary production site, using advanced manufacturing technologies to supply customers worldwide with products for a wide range of fields. This includes specialty plastics for automotive parts and electronics components, carbon fibers used as insulating materials for high-temperature furnaces, materials used in lithium-ion batteries in hybrid and electric vehicles, raw material for NEW Krewrap household wrapping film and other food packaging materials, and pharmaceuticals such as an agent for chronic renal failure.
The expansive 1.120Km2 site is an optimal facility for environmentally responsible production, not least because it is adjacent to Kureha Ecology Management Co., Ltd., which specializes in industrial waste treatment.
Facility Introduction
Polyvinylidene chloride plant

Polyvinylidene chloride plant

Kureha developed polyvinylidene chloride in 1948 using its own technologies. The resin produced at this plant is the principal raw material for NEW Krewrap and Krehalon Film.

Power-generating facilities

Power-generating facilities

The factory has its own coal-burning electric power station, capable of generating 45,000 kWh. This energy is used for various manufacturing processes at the site. The exhaust gas generated is converted into water vapor using denitrification, dust collecting and stack gas desulfurization before being released into the air.

Skills Training Center

Skills Training Center

At the Iwaki Factory, efforts are made to boost awareness of safety and disaster prevention, and labor safety and health, at both the Group companies and cooperating companies, for unified effects at reducing labor disasters and accidents. As part of these efforts, the Skills Training Center where simulated risks can be experienced was opened in November 2005. People not only in Kureha group but also from other companies and organization are able to train for safe work.

Wastewater treatment facility

Wastewater treatment facility

Wastewater generated by the Iwaki Factory is purified with Jarikko, a system that uses high-performance microbial films. The clean water channels from the Jarikko facility are regularly visited by flocks of spot-billed ducks.
Environmentally responsible manufacturing with high priority on quality
Comprehensive environmental measures
The Iwaki Factory is an optimal facility for environmentally responsible production, generating its own electricity and incorporating eco-friendly processes all the way through to logistics and disposal handled by the adjacent Kureha Ecology Management Co., Ltd., which specializes in industrial waste treatment. Kureha Ecology Management in particular has amassed extensive environmental expertise, such as technologies to detoxify hazardous chemical substances such as heavy metals. In 1998, the company was the first in the industry to acquire ISO 14001 certification.
International standards for manufacturing
The Iwaki Factory acquired ISO 9001 certification, an international standard for quality assurance, in 1996. This was expanded to include the entire company in 2003. Further, in 2012 the Iwaki Factory passed the maintenance inspection for the latest standard, ISO 9001:2008. The positive operational status of Kureha's quality management system, including for sales and administrative divisions, has been independently certified. We will continue to pursue the highest international standards of manufacturing practice.
Plastics Processing Factory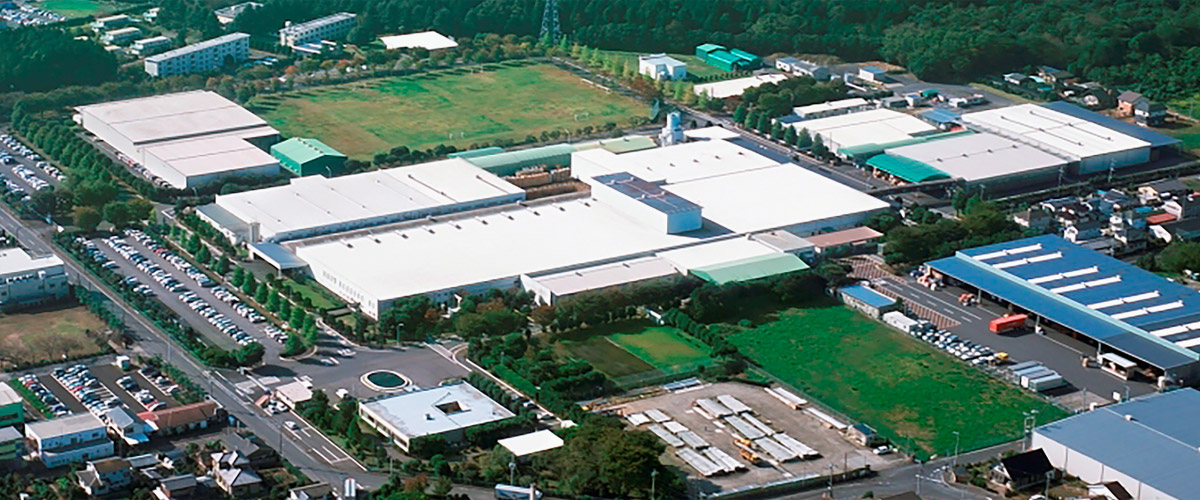 The Plastics Processing Factory is the center for production of food packaging materials using Kureha's resin processing techniques, including the household plastic wrap NEW Krewrap made from polyvinylidene chloride produced at the Iwaki Factory. The factory comprises two production sites, at Omitama in Ibaraki Prefecture, and Tamba in Hyogo Prefecture.
A hygenic and reliable food contact packaging environment
NEW Krewrap production line
Thorough "safety" and "safety"
Since the Plastics Processing Factory mainly makes products that come into direct contact with food, we have rigorous systems in place for quality and hygiene control in our factory. Through constant and strenuous effort we ensure customers' safety and peace of mind.
Environmental improvement by ISO14001
The Ibaraki Site acquired the ISO 14001 environmental management certification in November 2002. The factory occupies a leafy site of around 160,000 m2, and continually strives to optimize energy use and reduce waste, as well as enhance the environment-friendliness of its products and strengthen relations with the local community.