Awards & Recognition
Kureha's research and development has been recognized around the world with a series of awards and prizes
Kureha Received 51st JCIA Technology Award Special Technology Prize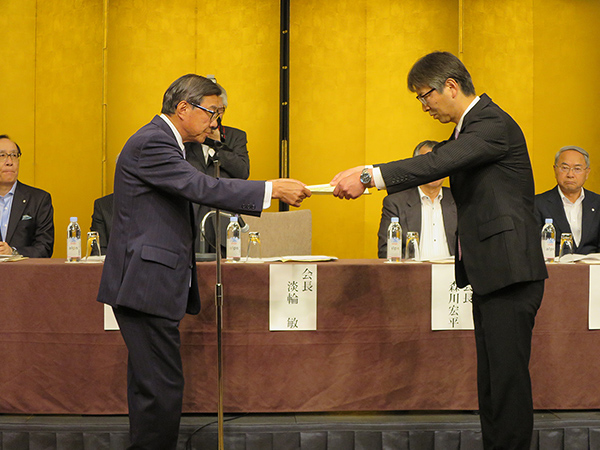 Kureha's "Production technology development and new market exploration of high molecular weight polyglycolic acid (PGA)" received Special Technology Prize.
The three main points cited for the award were
Development of world's first industrial production technology
Increased adoption of PGA origin parts in shale oil/gas exploration process by its high mechanical strength and degradability contributing to customers' cost reduction and better production yield.
100% market share in industrial application of PGA and FY2017 sales was approximately 2.8 billion yen.
Kureha continues to grow PGA business and develop new products.
2020
Award
Awarded Product & Technology
Organizer
April
2020
52st The Ichimura Prize in Industry
Production technology development and new market exploration of high molecular weight polyglycolic acid (PGA)
Ichimura Foundation for New Technology
2019
Award
Awarded Product & Technology
Organizer
May
2019
51st JCIA Technology Award Special Technology Prize
Production technology development and new market exploration of high molecular weight polyglycolic acid (PGA)
Japan Chemical Industry Association
2017
Award
Awarded Product & Technology
Organizer
March
2017
The 65th Chemical Technology Award, Chemical Society of Japan
Establishment of Manufacturing Technology for Polyglycolic Acid and Development of New Market as High-Functional and Environment-Friendly Material
The Chemical Society of Japan
2013
Award
Awarded Product & Technology
Organizer
September
2013
The 5th Monodzukuri Nippon Grand Award, Minister of Economy, Trade and Industry's Prize for Product and Technology Development
Development of high-functional biodegradable polymer, polyglycolic acid (PGA) to reduce environment burdens
The Ministry of Economy, Trade and Industry of Japan
2012
| | Award | Awarded Product & Technology | Organizer |
| --- | --- | --- | --- |
| May 2012 | 2012 SPSJ Award for Technology | Development of mass production technology for high-molecular weight polyglycolic acid (PGA) | The Society of Polymer Science, Japan |
| April 2012 | 2011/2012 NoAE Innovation Award for Material and Manufacturing | 'CARBOTRON' hard carbon anode material | Network of Automotive Excellence |
| March 2012 | 2012 SCEJ Award for Outstanding Technological Development | Development of mass production process for glycolide and polyglycolic acid (PGA) | The Society of Chemical Engineers, Japan |
2011
| | Award | Awarded Product & Technology | Organizer |
| --- | --- | --- | --- |
| April 2011 | 2011 Edison Awards Finalist for Energy & Sustainability Packaging | 'Kuredux' Polyglycolid Acid (PGA) | The Edison Awards |
2002
Award
Awarded Product & Technology
Organizer
September
2002
5th JFJ Food Machinery and Manufacturing Materials Award
'Besela' acrylate high-barrier film
Japan Food Journal Co.
2002
2002 SSPEJ Technology Award
Continuous crystallization and purification system
The Society of Separation Process Engineers, Japan
2000
| | Award | Awarded Product & Technology | Organizer |
| --- | --- | --- | --- |
| March 2000 | 2000 PSSJ Award for Outstanding Achievement in Technology | Development of agricultural fungicides, 'Ipconazole' and 'Metconazole' | The Pesticide Science Society of Japan |
1995
| | Award | Awarded Product & Technology | Organizer |
| --- | --- | --- | --- |
| October 1995 | 28th JCIA Technology Award | Development and commercialization of agricultural fungicide, 'Metconazole' | Japan Chemical Industry Association |